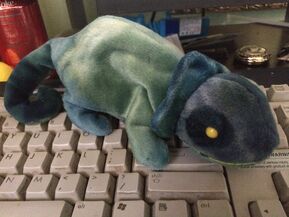 A chameleon Beanie Baby with a green/blue looking color with yellow eyes and mouth line.
His tag is just like any other, but has a yellow star that says " Beanie original Baby "
Red, green, blue and yellow
This chameleon is a colorful fellow
A blend of colors, his own unique hue
Rainbow was made especially for you !
Ad blocker interference detected!
Wikia is a free-to-use site that makes money from advertising. We have a modified experience for viewers using ad blockers

Wikia is not accessible if you've made further modifications. Remove the custom ad blocker rule(s) and the page will load as expected.